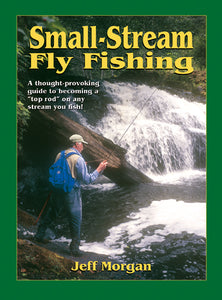 SMALL STREAM FLY-FISHING by Jeff Morgan
Americans like things big: super-sized full-meal deals, SUVs, Big Gulps. This "bigger is better" attitude has creeped into all aspects of our lives, even our recreational pursuits, including the quiet sport of fly-fishing. It seems today that most anglers want big fish from famous big rivers. But that's such a limiting outlook.
There are many myths surrounding the sport of fishing in small streams "they don't hold large fish; they aren't challenging; methods of presentation are limited; access is difficult; and so on" and they are all untrue. In Small-Stream Fly-Fishing, Jeff Morgan explores the fun and challenging world of small-stream fly-fishing, including equipment, small-stream ecology, entomology, fly patterns, types of small streams, presentations, and more. If you're looking for exciting fishing in secluded areas where you might not see another angler all day, give small streams a chance—and let Small-Stream Fly-Fishing be your guide.
 8 1/2 x 11, 142 pages, full color
---
We Also Recommend