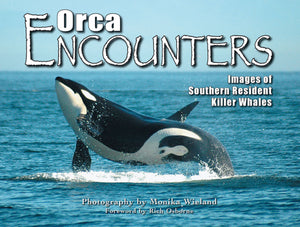 ORCA ENCOUNTERS by Monika Wieland
Encountering wild orcas is an unforgettable experience. Having them approach you within a few yards as you sit on shore and observing them as they travel in their family groups, hunt salmon, and play at the surface is indescribable. This book captures in images what cannot be put into words: intimate face-to-face meetings with one of the most charismatic, mysterious, and intriguing animals in the ocean.
    The Southern Resident Community of orcas lives in the Salish Sea near the San Juan Islands of Washington and the inland waters of British Columbia. Although they have been intensively studied over the last several decades, there is still much about these intelligent, social creatures that remains unknown. Listed as endangered under the Endangered Species Act, this population of whales represents the wild ecosystem of the Pacific Northwest.  This collection of photographs gives you a glimpse into the lives of J-, K-, and L-Pods.
11 x 8.5 Inches, 72 Pages, All-Color
---
We Also Recommend