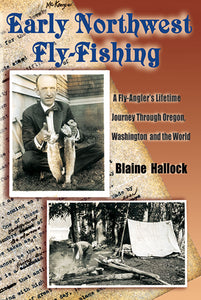 EARLY NORTHWEST FLY-FISHING by Blaine Hallock
Blaine Hallock (1889-1953) was born in Heppner, eastern Oregon and practiced law for many years in Baker City, eastern Oregon, and elsewhere. He was enamored of fishing, and especially fly-fishing and spent many days streamside with other Northwest fly-fishing pioneers, such as Spencer Biddle and Supreme Court Justice William Douglas. Parts of this book were originally written almost one hundred years ago. This historic book speaks of Northwest and international angling in locations that today are world famous (and unfortunately often crowded). Mr. Hallock had a desire to explore and a wonderful talent for angling and writing.
 This book is an exciting discovery of many of the roots of our sport...how one intelligent Oregonian experienced the first half of the last century.
6 x 9 inches, 232 pages
 Available in Softbound, Hardbound & Limited Editions
---
We Also Recommend