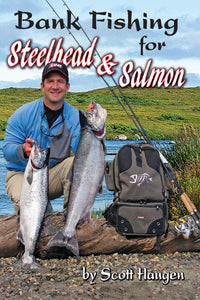 BANK FISHING FOR SALMON & STEELHEAD by Scott Haugen
Bank fishing for salmon and steelhead continues to grow in popularity. For the beginner, there is much to know. For the experienced, there's always something to learn.
In Bank Fishing for Salmon and Steelhead, noted author, Scott Haugen, highlights details aspiring anglers need to know. Pre-trip preparations you can do at home that will pay off in more time spent fishing; researching rivers and reading maps; organizing your gear; reading water and understanding the various water conditions in which fish hold; the best gear, tackle, and bait to get you more salmon and steelhead; specific bank-fishing techniques and tips; basic riggings; and more—this comprehensive book will guide you to more successful and enjoyable bank fishing.
6 x 9, 96 pages, all-color
---
We Also Recommend