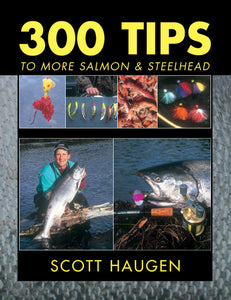 300 TIPS TO MORE SALMON & STEELHEAD by Scott Haugen
When it comes to catching more salmon and steelhead, time could well be an angler's best friend, or worst enemy.  By maximizing your fishing time while on the water, you will catch more fish.  Within these pages are 300 short, concise, tips to help improve the odds of catching more salmon and steelhead.
The purpose of this book is to help increase angler catch rates on river-running steelhead and salmon.  The more organized and efficient we are, be it at home or on the river, in a boat or off the bank, the more time will be spent with that line in the water, thus more fish will be caught. 
Based on decades of personal fishing experience, the author reveals within these pages many tips that have worked for him.  He also shares helpful hints brought to his attention by fellow sportsmen.  There is something in this book for every angler, no matter what their level of expertise.  If looking to maximize your fishing time, and catch more fish, this book is a must-have.
8.5 x 11,136 pages, all-color
---
We Also Recommend