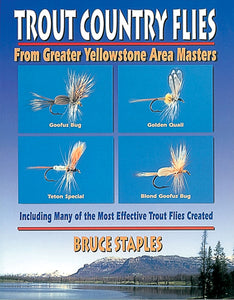 Gently used- TROUT COUNTRY FLIES: FROM GREATER YELLOWSTONE AREA MASTERS by Bruce Staples
The region centered around Yellowstone National Park holds our country's best inland salmonid waters--the Bighorn, Big Hole, Big Lost, Bitterroot, Gallatin, Green, Henry's Fork, Madison, Missouri, Snake and Yellowstone have sources here. Beyond this is an unmatched variety of stillwaters that complement this treasure of flowing water. No other region in our country can boast of such an array of quality salmonid waters, allowing this area to be known as "Trout Country."
From this land of quality water abundance comes a fly-fishing heritage that produces master fly tiers in numbers much out of proportion to the area's human population. The products of these masters began a hundred years ago and continues today. This book provides the most complete assemblage yet of flies produced during the twentieth century from Trout Country fly-tying masters.
Most trout fishers plan to or dream about visiting Trout Country waters. For those that do, Trout Country Flies: Discusses the most popular twentieth-century fly patterns conceived there and where they are used; Revels many effective fly patterns coming from the region that are not yet known to the fly-fishing public; Identifies major fly-tying art contributors in the region; Reveals, in many cases for the first time, the identity of regional fly-tying masters; Provides vital information for fly-fishing success in the region; Profiles the realization that a visit to Trout Country waters will be a major fly-fishing experience; Provides a view of fly patterns that can prove effective on waters in your area; Reinforces appreciation for the results that an abundance of quality salmonid waters produces.
Trout Country Flies is the most detailed assemblage of greater Yellowstone area fly tiers and their products combined with "where-to-go" and historical information. All fly fishers can benefit from and will appreciate the information contained within.
 Softbound, 8 1/2 x 11 inches, 168 pages.
---
We Also Recommend