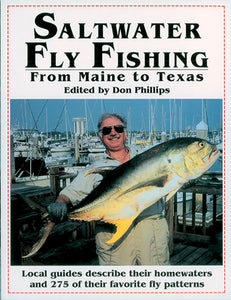 SALTWATER FLY-FISHING: FROM MAINE TO TEXAS by Don Phillips
The sport of saltwater fly fishing continues to grow with each passing year, the challenge and fun had hooking these large, strong, and fast species is just too irresistible to most fly-fishers. The challenge goes beyond just hooking these great fish: many wonder, •where in the sea do I find these fish •what do they eat •which flies are most productive •which techniques are most productive •what tackle do I use •what time of year is best to plan a trip to a particular destination •what species will I encounter •how do I find the hotspots in unfamiliar waters •how do I find a local guide, restaurant, shop, rentals •and much more.
Forty-three hot destinations for all saltwater species in the Northeast, Atlantic States, Florida, and the Gulf States are covered. Each destination is handled by a top guide in that area that answers the above questions, as well as providing a list of other area guides, fly shops, and charts for game fish, prey, and fly patterns. That way you are sure to get extremely accurate information from those people who know the fisheries best. Don Phillips gathered this vast amount of information into one book, Saltwater Fly-Fishing: From Maine to Texas. Regardless of your skill level or experience, with all the information provided within these pages, you are sure to create the perfect saltwater trip!
---
We Also Recommend