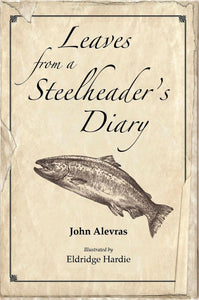 LEAVES FROM A STEELHEADER'S DIARY by John Alveras
Written by John Alevras
Illustrated by Eldridge Hardie
"John's book faithfully documents the realities of fly-fishing for steelhead, the good days, the bad days, the joys of small personal victories, the sadness of failures, the irritation of rivers in spate, and the joys of being in the places where steelhead fly-fishing takes you.
"If you are addicted to steelhead fly-fishing, as am I, then, when you read this book you will feel much like a skid row derelict warming up to the whispered lies of cheap wine or an alcoholic turned loose in a distillery. Such is the charm of this book.
"In short this is a book that can be picked-up and put-down at will. However, if you are like me you will have difficulty putting it down."—Alec Jackson
6 x 9, 158 Pages
Hardbound 
Limited Edition is boxed with fly inserted into the front cover of the box.
---
We Also Recommend