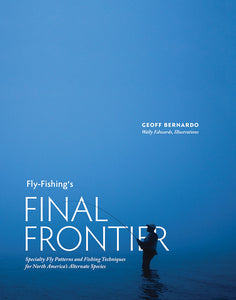 FLY-FISHING'S FINAL FRONTIER by Geoff Bernardo (Hardcover)
Abundant hard-fighting fish, pristine wilderness settings, solitude—The Holy Grail of fly-fishing. With Fly-Fishing's Final Frontier, and an open mind, it can be your usual fishing experience. Geoff Bernardo's book's the first of its kind; an enthusiastic and respectful look at fly-fishing techniques and fly patterns for the challenging fish some anglers scoff at—carp, pike, inconnu, stripers, bass, etc.
If you're tired of fishing among the growing number of anglers chasing dwindling numbers of fish, then it's time to expand your fishing horizons and enter Fly-Fishing's Final Frontier. 
9 x 12, 302 pages, heavy gloss paper, all-color, dust jacket
---
We Also Recommend