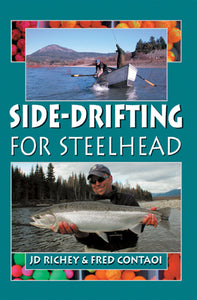 SIDE-DRIFTING FOR STEELHEAD by J.D. Richey
There are about as many ways to describe side-drifting as there are anglers practicing it, but on thing's for sure, it's a very effective way to catch steelhead.
JD Richey is one of the top side-drifting guides on the West Coast, and in this book he shares everything you need to know to become a successful side-drifter. Best describe ed as a family of techniques, side-drifting includes three methods--freedrifting, side gliding, boondogging.
Each method is explained in depth and includes the basic gear you'll need. Experts and guides share their side-drifting tips and tricks; you'll learn all you need to know about: Freedrifting; Alternative baits; Side gliding; Proper gear selection; Boondogging; Side-drifting without a boat; Side-drifting with floats and plugs. And a whole lot more!
6 x 9, 86 pages, all-color
---
We Also Recommend