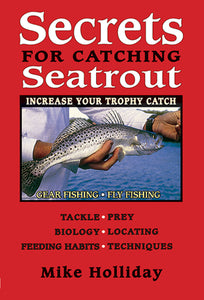 SECRETS FOR CATCHING SEATROUT by Mike Holliday
Spotted seatrout are a favorite game fish for coastal anglers from Virginia to Texas, and one of the most commonly sought inshore game fish. Mike Holliday is one of the top guides in southeast Florida for spotted seatrout, and in this book he shares not only his own knowledge and experience, but that of other top seatrout fishermen as well.
Secrets for Catching Seatrout includes: tackle tips; feeding habits and where to find seatrout; Mike's Top 10 lure types; live-bait techniques; standard rigs; lure color; how trout react to sound; how the seasons affect big trout; fly-fishing; trout biology and conservation; trophy trout in Texas waters; Texas big-trout guide information; and more.
Whether you are a beginner or expert seatrout fisherman, you will gain knowledge from this book that you can take to your own fishery.
---
We Also Recommend