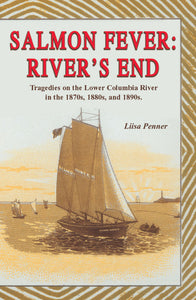 SALMON FEVER: RIVER'S END TRAGEDIES ON THE LOWER COLUMBIA RIVER IN THE 1870s, 1880s, AND 1890s by Lisa Penner
The mighty Columbia River is as dangerous as it is magnificent. The water at the mouth of the river is cold, with temperatures ranging from the forties in winter to the sixties in summer. When someone falls into the water nowadays, the experience is frightening and miserable, but help is usually quickly on the way. Lightweight clothing, life jackets and flotation devices keep him buoyant while the radio on-board his boat sends out distress calls to the Coast Guard who dispatch helicopters and boats to pluck him out of the water.
How dangerous was it to work and play on the river in the 1870s, 1880s, and 1890s? No radios, helicopters or boats of the modern Coast Guard rescued the man who was thrown overboard in the 1800s. Few ever survived. Heavy clothing, quickly water-soaked, pulled the victims under the surface before anyone nearby could help. Some managed to float for a while, waves slapping against their faces, the cold paralyzing their limbs, their weakening cries for help going unheeded or unheard until they too sank down into the depths. Salmon Fever is a collection of historical articles from Astoria, Oregon newspapers that reveal a frightening past on this famously treacherous river. Once you pick it up, you won't be able to put it down.
The Columbia River is one of the most majestic rivers in the world, and it's also one of the most dangerous. So what was it like working on this amazing river in the 1870s, 1880s, and 1890s? Read this book to find out!
6 x 9 Inches, 96 Pages, Historical photographs.
---
We Also Recommend