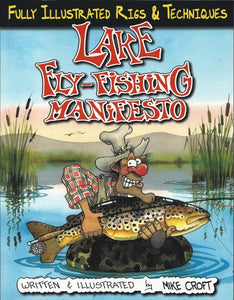 LAKE FLY-FISHING MANIFESTO by Mike Croft
A brilliant explanation of how to fly fish still water ponds, lakes, and reservoirs by a long-practiced expert. You will marvel at the inside information presented in a dramatic and hilarious drawing style.
Valuable information about casting, reading water, lines, reels, rods, float equipment, flies, hatches, weather, structure. Hundreds of hand-drawn illustrations.
8 1/2 x 11, 169 Pages
Originally published  1998 as: "The Fish Bum's Guide to Catching Larger Trout"
---
We Also Recommend