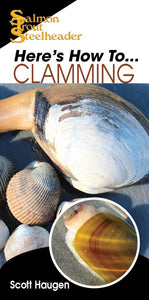 HERE'S HOW TO: CLAMMING by Scott Haugen
Digging for clams offers a high return on your investment, and there are many places where you can go clamming. In this guide you'll learn what gear is needed to clam successfully, where to go, how to dig, clean and prepare the West Coast's most popular clam species.
Noted author, Scott Haugen, will teach you the basics of clamming the Pacific Coast. Focused on the most abundant and easily accessible species, you'll learn all you need to know to find success and enjoy some of the freshest seafood you've ever tasted.
3.5 x 7 Inches, 48 Pages, All-Color
---
We Also Recommend