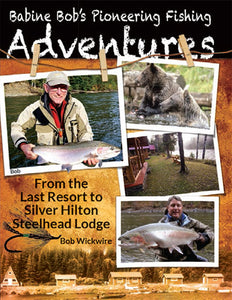 Gently used-SB-BABINE BOB'S PIONEERING FISHING ADVENTURES by Bob Wickwire
With nothing more than a long-time dream and strong work ethic, Bob Wickwire, and his partners, Larry and Ellen Stanley began a mad journey to pioneer a fishing lodge, somewhere in the wilds of British Columbia. With all five species of Pacific salmon and world-class steelhead fishing, they settled on an untamed, uninhabited part of Canada—Babine Lake where the rule of "survival of the fittest" rings true.
The never-ending struggles, dangers, and successes they experienced along the way makes for a fascinating pioneering adventure. 1 1/2 x 11, 200 pages, all color.
---
We Also Recommend