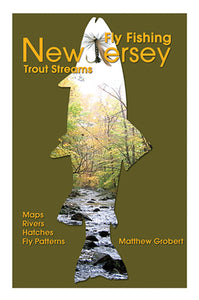 FLY-FISHING NEW JERSEY TROUT STREAMS by Matthew Grobert
This book is the culmination of 35 years of experience, information, insights, observations, and the wonders of fly-fishing for trout in the Garden State.
Written with the passion of a life-long fly-fisherman, you will gain valuable knowledge on becoming a better angler and naturalist no matter where you fish for trout. Coupled with the lyrical narrative are dozens of photographs taken by a variety of New Jersey anglers who share the author's love of fly-fishing for trout. Matt covers every aspect of fly-fishing for trout in New Jersey with a style and clarity to suit every level of ability. You will learn about three species of trout and their behavior, the insects they eat, and the artificial flies that imitate those insects.
---
We Also Recommend