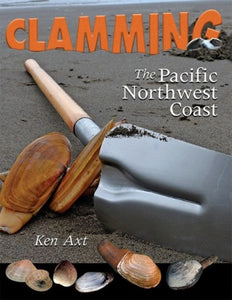 CLAMMING THE PACIFIC NORTHWEST COAST by Ken Axt
Clamming is a rapidly growing hobby in the Pacific Northwest. It's great fun for all ages, you don't need a boat or expensive tackle, and chances are there is a location near you. If you are new to clamming, you'll find simple instructions that will have you harvesting clams in minutes. If you're looking to broaden your skillset, Clamming the Pacific Northwest Coast is the most comprehensive guide for harvesting razor and bay clams. Also includes informative maps & charts, tides, equipment, regulations, recipes, and so much more.
Easy to read and full of personal experience and family stories, Clamming the Pacific Northwest Coast is one of those rare guidebooks that is not only informative, but fun and interesting to read too. 8 1/2 x 11 inches, 88 pages, all-color.
---
We Also Recommend