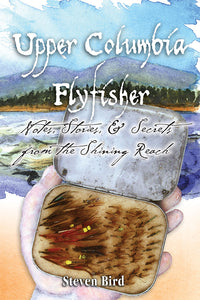 UPPER COLUMBIA FLY-FISHER by Steven Bird
The Columbia River is the world's greatest trout fishery. Its mainstem is about 1,000 miles long and with its scores of famous tributaries provides thousands of miles of the best trout streams in the world. They are located in Oregon, Washington, Idaho, Montana, Wyoming, Utah and British Columbia. Tucked away in northeastern Washington State and southern British Columbia is a lengthy section of the mainstem Columbia that regularly produces magnificent, powerful rainbow trout over 20 inches, and several pounds on drys and nymphs.
The Shining Reach provides trout fly-fishing in a very large, free-flowing river, surrounded by a majestic and gorgeous river canyon.  It's a river of massive power and rainbows, only understood and appreciated by fly-anglers willing to take the time and make the effort to learn its ways. This is a true personal-adventure book written by a man who, over the years, has developed an intimate association with this wonderful, challenging river and its trout.
6 x 9, 117 pages, full color, map & fly plates
---
We Also Recommend