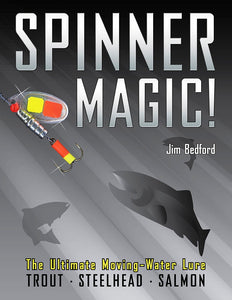 SPINNER MAGIC by Jim Bedford
The flashing blade of a weighted spinner seems to mesmerize fish and entice them into striking. These lures don't resemble any natural prey but predatory fish especially trout and salmon find them irresistible. 
Spinners are easy to cast and retrieve and, if they spin, they will catch steelhead and trout! But there are a lot of subtleties to fishing spinners well in rivers and streams and Spinner Magic will help you become a master spinner-angler. 
Over the past 45 years, Jim Bedford has plied the rivers and creeks of North America for tens of thousands of hours with a spinner on the end of his line. He is a retired environmental scientist with degrees in fisheries biology so there is a lot of science behind his techniques and he has held nothing back in writing Spinner Magic!. Everything from understanding the habits of the trout and salmon species to reading and matching the water, even crafting your own spinners is included. 
Whether you're a seasoned spinner-fisherman or a complete novice at spinner-tossing, Spinner Magic! will greatly enhance your overall success on the water.
8 1/2 x 11, 72 pages, all-color
---
We Also Recommend